About Dublin
Europe's most intimate capital is set in a broad river basin fringed by the majestic sweep of Dublin Bay and the tantalizingly close Wicklow Mountains. It is a vastly entertaining city, with much to offer the pedestrian explorer: pubs, churches, grand buildings and fine museums, elegant parks, and a people who are both boozers and talkers, down-to-earth wheeler-dealers and airy pipe-dreamers. Above all, Dublin is a place whose pulse must be taken over some time, possibly with the aid of a glass of Guinness, apocryphally tasting of the peaty waters of the Liffey.
Highlights
---
Christ Church Cathedral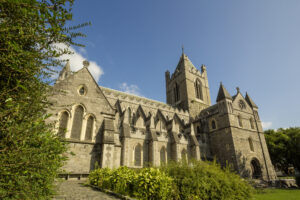 Construction on Christ Church – the flagship of the Church of Ireland and one of two Protestant cathedrals in Dublin – was begun in 1172 by Strongbow, a Norman baron and conqueror of Dublin for the English crown. The vast, sturdy crypt, with its 12th- and 13th-century vaults, is Dublin's oldest surviving architecture and the building's most notable feature.
Christ Church Pl. and Winetavern St., tel. 01/677-8099.
Open Mon.-Sat. 10-5:30, Sun. between church service.
Visit christchurchcathedral.ie
---
Dublin Writers Museum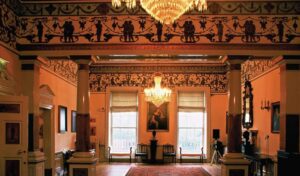 A restored 18th-century town house on the north side of Parnell Square is now one of Dublin's best cultural sights. Rare manuscripts, diaries, posters, letters, limited and first editions, photographs, and other mementoes commemorate the life and works of the nation's greatest writers (and there are many of them, so leave plenty of time) including Joyce, Shaw, Wilde, J.M. Synge, Lady Gregory, Yeats, Beckett, and many others.
18 Parnell Sq. N, tel. 01/872-2077.
Open Mon.-Sat. 10-5, Sun. 11:30-6.
---
Grafton Street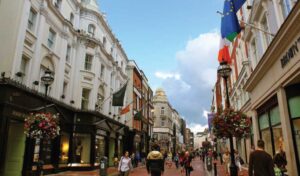 It's no more than 200 yards long and about 20 feet wide, but brick-lined Grafton Street can make a claim to be the most humming street in the city.
Both on Grafton Street itself and on the smaller alleyways that radiate off it, there are dozens of independent stores and some of Dublin's most popular watering holes.
In summertime buskers from all over the world line both sides of the street, pouring out the sounds of drum, whistle, pipe, and string.
---
Guinness Brewery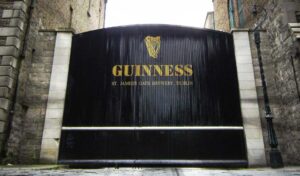 Founded by Arthur Guinness in 1759, Ireland's all-dominating brewer is situated on a 60-acre spread to the west of Christ Church Cathedral.
Not surprisingly, it is the most popular tourist destination in town. The brewery itself is closed to the public, but there's an 18-minute audiovisual presentation. The show ends with the curtain rising on an old-fashioned pub where visitors receive two complimentary glasses of the famous black stout.
Crane St., tel. 01/453-3645.
Open Apr.-Sept., Mon.-Sat. 9:30-5, Sun. 10:30-4:30;
Oct.-Mar., Mon.-Sat. 9:30-4, Sun. noon-4.
Visit ww.guinness-storehouse.com for lots more information.
---
Hugh Lane Municipal Gallery of Modern Art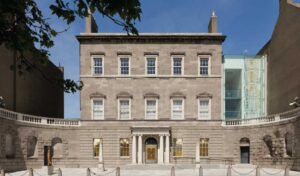 Built originally as a town house for the earl of Charlemont in 1762, the Hugh Lane Gallery was named after a nephew of Lady Gregory (Yeats's aristocratic patron) who drowned on the Lusitania. Lane collected both Impressionist paintings and 19th-century Irish and Anglo-Irish works. Paintings by Degas, Bonnard, and Corot are permanently on display.
Parnell Sq. N, tel. 01/874-1903.
Admission free.
Open Tues.-Fri. 9:30-6, Sat. 9:30-5, Sun. 11-5.
---
Merrion Square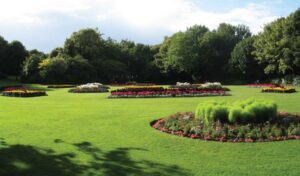 Created between 1762 and 1764, this tranquil square a few blocks to the east of St. Stephen's Green is lined on three sides by some of Dublin's best-preserved Georgian town houses, many of which have brightly painted front doors over which sit intricate fanlights.
Open daily sunrise-sunset.
---
National Gallery of Ireland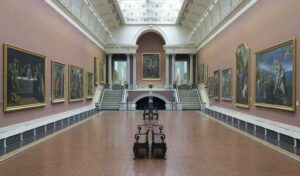 The first in a series of major civic buildings on the west side of Merrion Square, the National Gallery is one of Europe's finest smaller art museums.
Merrion Sq. W, tel. 01/661-5133.
Admission free.
Open Mon.-Wed., Fri., and Sat. 9:30 -5:30; Thurs. 10-8:30; Sun. 11am-5:30. Public Holidays-11am-5:50.
---
National Museum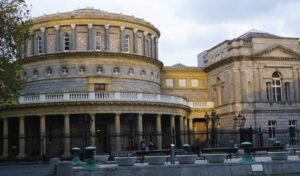 Ireland's National Museum houses a varied, comprehensive collection of Irish artifacts from 6000 BC to the present, including the largest collection of Celtic antiquities in the world – an astonishing array of gold jewelry, carved stones, and weapons.
Kildare St.; Annexe: 7-9 Merrion Row; tel. 01/677-7444.
Admission free.
Open Tues.-Sat. 10-5, Sun. 2-5. Closed Mondays
---
Olympia Theatre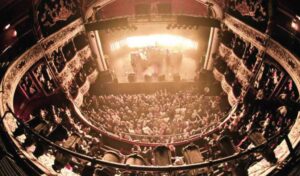 Recognized as one of the best places anywhere in Europe to see live musical acts, the Olympia is Dublin's second oldest and one of its busiest theaters. Built in 1879, this classic Victorian music hall has a gorgeous, red, wrought-iron facade.
If you have a chance to catch a favourite performer (or to discover someone new), go!
72 Dame St., tel. 01/677-7744.
---
Phoenix Park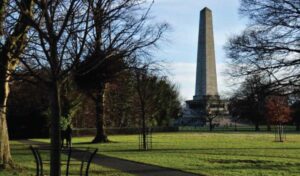 Europe's largest public park, extending about 3 mi along the Liffey's north bank, encompasses 1,752 acres of verdant green lawns, woods, lakes, and playing fields. Sunday is the best time to visit: Games of cricket, soccer, polo, baseball, hurling – a combination of lacrosse, baseball, and field hockey – or Irish football are likely to be in progress.
Phoenix Park, tel. 01/677-1425.
Admission: FREE
Open daily 9:30-dusk.
---
Royal Hospital Kilmainham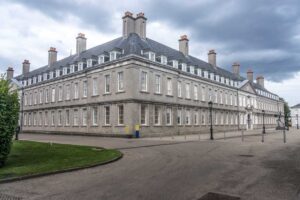 A short ride by taxi or bus from the city center, this is regarded as the most important 17th-century building in Ireland. The structure consists of four galleries around a courtyard with a grand dining hall, 100 ft long by 50 ft wide. The architectural highlight is the hospital's Baroque chapel, distinguished by its extraordinary plasterwork ceiling and fine wood carvings.
Kilmainham La., tel. 01/671-8666.
Admission free.
Open Tues.-Sat. 10-5:30, Sun. noon-5:30, tour every 30 min.
---
St. Stephen's Green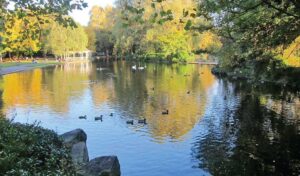 Dubliners call it simply Stephen's Green, and green it is (year-round) – a verdant, 27-acre city-center square that was an open common until 1663. After a long period of decline, it became a private park in 1814. Its fortunes changed again in 1880, when Sir Arthur Guinness paid for it to be laid out anew.
Flower gardens, formal lawns, a Victorian bandstand, and an ornamental lake that is home to many waterfowl are all within the park's borders.
Admission free.
Open daily sunrise-sunset.
---
Trinity College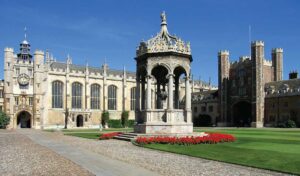 Ireland's oldest and most famous college opened in 1592 and is an oasis of genteel charm in the heart of college-town Dublin. Its principal treasure is the Book of Kells, housed in Trinity College Library, generally considered the most striking manuscript ever produced in the Anglo-Saxon world.
Library: tel. 01/608-2308.
Admission: See web-site.
Open Mon.-Wed & Fri: 9:30am-5pm;Thursday 9:30am–9pm Sat: 9:30-1pmJune-Sept., Sun. CLOSED, Oct.-May, Sun. CLOSED.
Click here for the Library Web-site which has lots of information